All of our instruments are traditionally hand-made by the master violinmaker,
Alexander Goncharoff
.
Each instrument is the final product of over 20 years of research and development. In addition to their exceptional tonal qualities, each violin is also a unique work of art.
Alexander Goncharoff
violins are professional caliber instruments, created for soloists and recording artists, and available exclusively through
Renaissance Acoustics Inc
.
"Good things take time" - that's why all violins offered by Renaissance Acoustics are never "fresh" from the workbench. Each available violin has already passed the first stage of the aging process in developing its mature voice.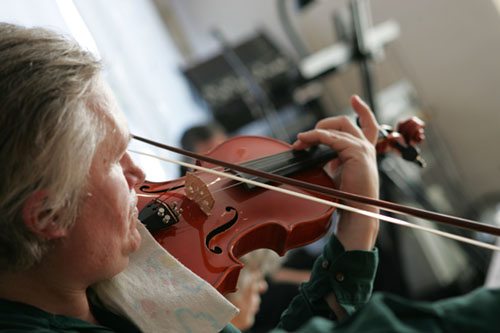 The Stradivari Concept is being tested in a concert hall setting.
All of the instruments we offer have been rigorously played-in for at least six months to a year, and consequently, don't require any breake-in period. However, they don't like to be left untouched for extended periods of time, and are also sensitive to seasonal changes, just like the Old Italian instruments.
We do not offer instruments that have been subject to any kind of experiments, regardless of how small or insignificant the deviation might have been from our standard method. Through observing our instruments for more than 20 years, we have found that they sound only better with time, and when properly handled, look as if they were made yesterday.
Knowing exactly how our instruments will behave throughout their lives allows us to offer a Lifetime Warranty for all our instruments with confidence.
Though the level of craftsmanship of our violins is the finest that can be found anywhere, it is their sound quality which sets them apart from the other contemporary instruments. Multiple sound clips of available instruments can be found on our Virtual Trial page, along with an assessment of playable characteristics which are not easy to determine from listening to a recording. In recording the sound samples, we've used professional grade equipment with a flat frequency response and non-flattering microphones. The samples are made to represent the sound as you would hear it if you played the violin yourself, and are not 'beautified' in any way. We recommend that you listen to the sound clips using studio quality headphones and a high quality audio card for the most accurate reproduction of the original sound.
It is our goal to present our instruments using the most detailed and accurate information possible. We prefer that our customers see all the details and hear the sound of our instruments for themselves, instead of relying on wordy subjective descriptions. We hope this will help you make an informed decision in choosing your instrument. We believe you will find that Alexander Goncharoff instruments represent the highest tonal, aesthetic, and investment value on the market.