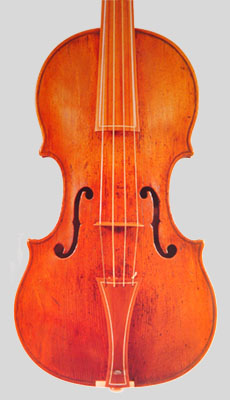 The
Amati
concept is undoubtedly the most versatile violin type ever created. Extremely responsive with superb tone dynamics, and a lush fountain of upper harmonics, this type of sound has been a favorite with the performers as well as the connoisseurs for generations. Characterized as brilliant, vibrant, sweet, and seductive it is a perfect fit for chamber music, as well as solo performance or recording studio work.
The vast majority of Old Italian instruments, with the exception of only a few makers, belongs to this category. All famous families of violin makers you can think of got their roots from the Amati family, carrying on their tradition and style through generations. Andrea Guarneri, Francesco Ruggieri, Alessandro Gagliano, Giovanni Grancino, Santo Serafin… the list goes on and on.
The Amati concept has never really fallen out of favor , but rather became overshadowed by the wide acceptance of Stradivari and Guarneri del Gesu violins as the choice of soloists, in 19th century, long after the culture of violin making was all but gone. Caused by the coming of the new age of music, the trend is still in vogue.
Despite the popular demand for Stradivari or del Gesu instruments some soloists actually prefer the Amati concept. Joseph Szigeti wouldn't give up his Pietro Guarneri of Mantua for anything under the sun. Vladimir Spivakov played on a Francesco Gobetti most of his carrier. Oleg Krysa, never parted with his Pietro Guarneri of Venice. Mikhail Fichtengoltz with his Francesco Ruggieri… There were and still are many wonderful violinists, blessed with exquisite taste, who had preferred and who continue to play violins that carry on Amati's legacy.
This violin is over 400 years old! yet its magic is still alive!
Despite its awe-inspiring age, it did not loose its crisp, "cut-through-glass" quality of tone.
Remarkably, you can even hear its instantaneous
responsiveness
, and of course the
slotting
is unmistakably there.
The Amati concept is Alexander Goncharoff's favorite violin type. He believes that instruments based on these principles are unfairly underappreciated, and will inevitably come back as a superb choice for solo performances because of their outstanding tonal qualities.
The voice equivalent of the Amati concept - Coloratura (soprano) .